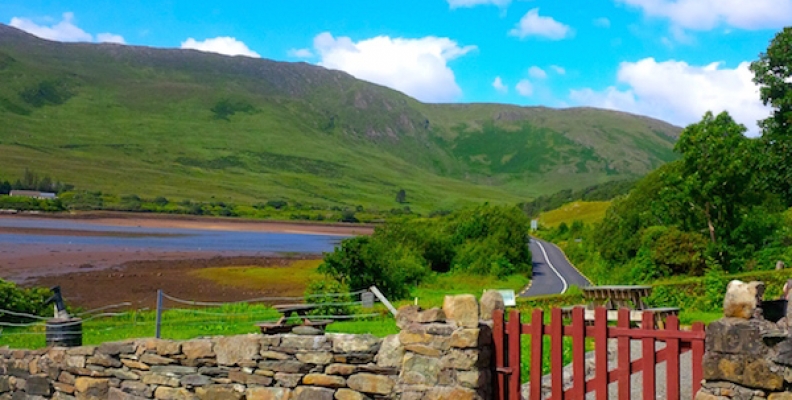 They were starving!
We were a little off course, and as we drove, I gulped at the almost mystical sight of the Sheefry Mountains. Apparently, they filmed part of Star Wars here. I noticed my husband had gone very quiet too.  A while later he said, 'why ever did your family want to leave Ireland?'  I almost laughed. 'They were starving!'
But 170 years ago, it was no laughing matter.  We were on a road trip following the path of my Great, Great Granny Margaret, who escaped the famine in 1847 by walking from Galway to Dublin to get on a boat to England.  GG Granny Margaret settled in Derbyshire, married, bought up a large family and made a living making lace products from home.
We were headed toward the beautiful coastline of Connemara, Country Galway, our stop off for a couple of nights. It rained of course but our hotel in Roundstone was wonderfully welcoming, and it was there that I got chatting to Padraig.
Padraig told me that this gorgeous little harbour town was heaving with tourists in summer and everyone had work.  However, so many houses had been bought up by what he termed 'the Dublin 4 set' that once summer was over the town only had 71 inhabitants and there was very little work. This is sad because the town folk have a multitude of transferable skills including the great customer service skills that Padraig displayed.
Remote parts of Ireland and England for that matter will benefit from the wider introduction of remote working jobs.  We've organised ourselves, so that much of daily life is crowded into London, Dublin, Belfast, Edinburgh, Cardiff and a few other major cities!
So, what if it didn't matter whether you lived in Orkney, in St Agnes or Roundstone if you had a computer, a phone, good broadband and the requisite skills for the job?
What impact would it have on society and economy if work started to flow into these 'tricky to commute' places? Perhaps:
Wealth would be distributed more evenly across the UK and Ireland
Less money would be spent on state benefits
A sense of purpose would permeate areas with low employment
Services like the NHS and education could be more evenly distributed
There would be a reduced carbon footprint
It's a very simplistic view, I know – but maybe there is a better balance. Even the Taylor Report nodded to it.
This week we met a brilliant business who have made a real success of Smart Working – they have 160 people working at home – doing a fantastic job for their customers. Collectively, they are giving a much better service than when they were office based and productivity has increased by 13%!
Are you ready to be a part of the revolution? Employers and Employees can register here at Abodoo.
Using proven methods we can help you implement Smart Working options at pace that increase productivity by at least 13%
Request a free webinar at info@Abodoo.com and you'll learn some of our top tips for implementing successful Smart Working strategies
To find out more about how we can support your organisation to adopt Smart Working then contact Ruth directly on rg@thechangedirectors.co.uk or call 07976 509 551.