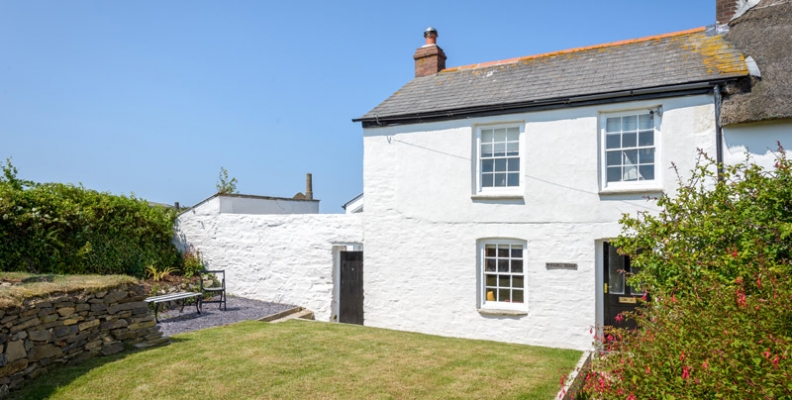 The art of project management
Last summer, I decided to have a break from Business and HR Transformation and put my programme management skills to use in a slightly different way. I project managed the renovation of our grade 2 listed Tin Miner's cottage which is in St Agnes, Cornwall and was built in the 1700s from cob and stone. It's in the heart of 'Poldark' country – indeed St Annes, the village in the book is based on St Agnes!
There are copious books about project managing renovations out there that tell you to select your builders wisely, choose someone local, get references, go through the project in detail before signing any contracts, check their insurance and so on, but in the end, I found that just like all the other transformation projects I have worked on, it was all about people. Here's what I learned in the Summer of 2016.
Managing Specialists
Matt, our lovely builder, had several specialist tradesmen to call on who were based in the Newquay area and he also managed the project. I quickly realised, just as in other business sectors, there's a distinct hierarchy of status and certain trades appear to attract a certain sort of character.
Wren's Nook building site was a world of horizontal, network relationships brimming with traditional building skills and cultures, informal associations, causality and dependency and thus, very often dis-organisation. The project was behind schedule. They needed a project manager.
Granny Gawthorpe
So, when Granny Gawthorpe turned up, they were in for a bit of a 'change'. Some were a little anxious – especially Matt – their leader. GG and her plan must have seemed a strange phenomenon to this seasoned set of tradesmen who were used to working with project managers who had worked up through the ranks or were 'chartered'.
It was essential that I built my relationships and understanding of the project dependencies quickly so that I became an insider, a support function, rather than something to fear. I learned fast to transgress their carefully, delineated domains…i.e. I did a bit of eggshell walking, to begin with.
Building Trust
Of course, achieving their trust was all about communication – that and an ever full teapot. They didn't like the project plan, to begin with, but they soon learned that ticking off jobs led to incentives like doughnuts or lemon drizzle cake.
We'd had some attrition because there was a steep hill to climb and a very narrow Cornish Lane only allowed vehicular access to very small vans. But with a bit of tweaking of our employer brand, Wren's Nook fast became the place for contractors to be. 8 am breakfast meetings over bacon butties, lunch in that sunny spot in the garden, tea and cake at 3 pm, the odd bottle of wine awarded for service above and beyond – finish at 4 pm – clockwork.
And boy, do they gossip! I was once HR Manager at Coats Viyella's sock factory in Sutton-in-Ashfield, and those ladies couldn't hold a torch to the rattle I heard on that building site!
Fully regulated
It's a fully regulated sector, everything revolves around Building Regulations ….that and windows. Windows are the bane of construction project management; Matt told me 'every build we do is held up by windows'. Certainly, ours was.
Pecking order
Without a doubt, the electricians and plumbers are the elite. Cars were moved and re-parked so that the 'Top Dogs' could be the nearest to the building. Our electrician did not clear up – that was left to the carpenter's apprentice who was also a dab hand with the industrial hoover.
Plumbers keep different hours to the rest. We had two over the renovation period, and both were simply more 'reserved'. Pipe whisperers keep British society intact with running water that allows us to cook, clean, bathe and dispose of waste. They are frequently in contact with some yucky stuff, and Jamie told me "every plumber I know has dealt with something rough and been ill." Hence they are top of the leader board place and prices.
Plasterers are the artists – the creatives – and are fascinating to watch at work. Carpenters are detailed and pernickety. Jo, the sash specialist, (Jo's work didn't hold us up btw) beautifully renovated windows that were looking rather sorry for themselves having been in place since the 1700's.
Tilers, bricklayers and the ground work boys come at the bottom of the pecking order. Yet have a look at the Cornish Wall and what would I have done without Paul, our ground worker!
Employee of the Project
My Employee of the Project Award went to Paul. If a delivery needed bringing up that steep hill and the driver wouldn't carry it – he took the wheelbarrow down and collected it. If I couldn't reach the bit of the ceiling I needed to paint – he reached it for me. He revealed the fireplace, dug out a midden and found original glassware. He had so many great ideas about how the garden could look it was unbelievable. He started at 8 am, finished at 4 pm, worked like a trouper in the interim fuelled by the copious amount of tea and cake and was never happier than when in his digger.
In September I had to go back to my day job as the project was complete. Was it on time? – No (Windows). Was it on budget? – No (Windows). Did I learn a lot? – yes.
Would I do it again? Yes, yes, yes!
Here's what our lovely team created! Wrens Nook – a delightful cottage in the heart of Cornwall. Facebook and Twitter.