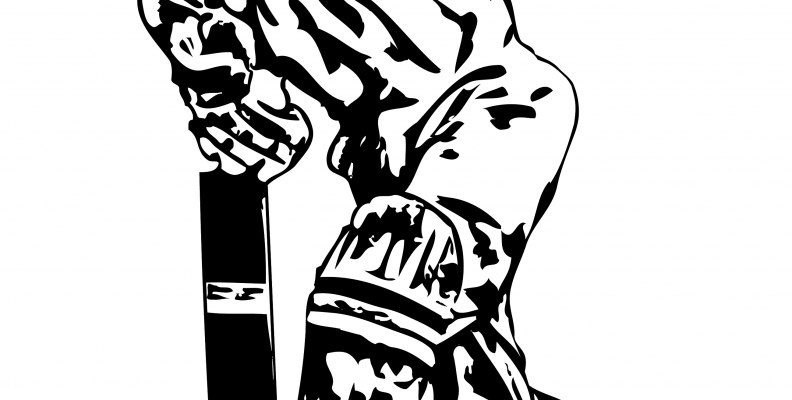 Networking scored at last for me!
Here at the Change Directors we are passionate about Cricket.  We just love it! We follow it all over the world and we often have Sky Sports on in the background while we work so we can keep an eye on the beloved game.  Our passion extends to sponsoring the local Cricket Team, Beeston and Toton Sycamore Cricket Club (BATs) whose home ground is at Toton Playing Fields near Nottingham.
So when I got up on the morning of 3rd December and read on Twitter that Alex Stewart, the ex England Wicket Keeper, Captain and most capped player was coming to town for a networking event that very day, I signed up immediately, rallied Mr. Gawthorpe and we set off for Trent Bridge.
I'm not a keen networker. I know I have to do it as my Marketing Lady, Mrs. Walker tells me I may meet new clients, but frankly I would rather boil my eyeballs. I'm by no means a wallflower, but I am an introvert, perhaps a bit shy somewhere and I lose energy going through the whole sorry process of networking. I guess I just like to meet people I already know and standing around making small talk doesn't do it for me.
Anyway, we arrived and made small talk about the pitch, the ground and anything else we could think of with other members of Nottingham Professional Services Group. Lunch had been served, the raffle tickets were sold and we were ushered in to hear what Mr. Stewart had to say for himself.
And interesting stuff it was. We learned that although Kevin Peterson is not on his Christmas list, Alec wished him no harm, recognises he was/is a marvelous player who should have been made to tow the team line a bit more when he was playing at his optimum level rather than shifted out on the basis that he was disruptive influence when he wasn't doing so well. KP was always disruptive but the hierarchy put up with it when he was playing well.
He told us that the current England Captain must have been finding it pretty tricky having to drop players for not scoring enough runs when he isn't scoring many himself!
He talked about having honest conversations as a team and genuinely had some good leadership advice to share with the couple of hundred business men and a few women who clearly agreed with me that this was one networking event worth attending.
His talk over, Alec moved on to draw the raffle. Recently, our local Club told us that they want to set up a Youth Team to attract and train Girls and Boys who want to develop cricket skills as well as sense of teamwork, fair play and community involvement.  Club Cricket has been central to our community for centuries and we want to ensure that this continues. There were two Bats up for raffle as well as some other lovely prizes. The first draw was made and lucky guy moved forward and chose the Gunn and Moore as his trophy.
"If you happen to win, make sure you get the other bat and not the Champagne," warned Mr. Gawthorpe just as Alec called out my name! Sporting a foot injury, I hobbled out, collected the B2 bat and hobbled back to my chair. I could audibly hear the groans of the guys who wondered what on earth Granny Gawthorpe was doing with such a glorious handmade bat when they could have scored so many runs if they had won it.
Well, here is the answer on May 1, 2015, The Change Directors, our Associates and BATs Cricket Players are doing a sponsored walk to raise funds for the equipment and coaching resource required to get the Youth team up and running.
It's not just any old walk – we are walking 89 miles along the Ridgeway from Avebury in Wiltshire to Ivinghoe Beacon in Bucks. following a route used since prehistoric times by travellers, herdsmen and soldiers.  The Ridgeway passes through ancient landscapes through downland, secluded valleys and woodland and it will be hard on the feet. We will also be raffling off the B2 bat, signed by Alec, making the draw on our final day, 8th May so that the winner has the new bat just in time for the new season.
How can you help?  Well you can join us for as much or as little of the walk as you like……a mile, 10 miles or the whole week.  If that's too much to ask then why not sponsor this worthy cause or buy a raffle ticket for the bat? https://www.justgiving.com/Ruth-Gawthorpe1
It's a great cause and donating through JustGiving is simple, fast and totally secure. Your details are safe with JustGiving – they'll never sell them on or send unwanted emails. Once you donate, they'll send your money directly to our charity.
So, I have to concur with Mrs. Walker, my Marketing Guru, networking does pay! We have a lovely signed bat to prove it.
Ruth Gawthorpe is the owner of the Change Directors who sponsor Beeston and Toton Sycamore Cricket Club based in Nottingham. Ruth works with organisations to help them improve their business through their people and become high performing organisations.