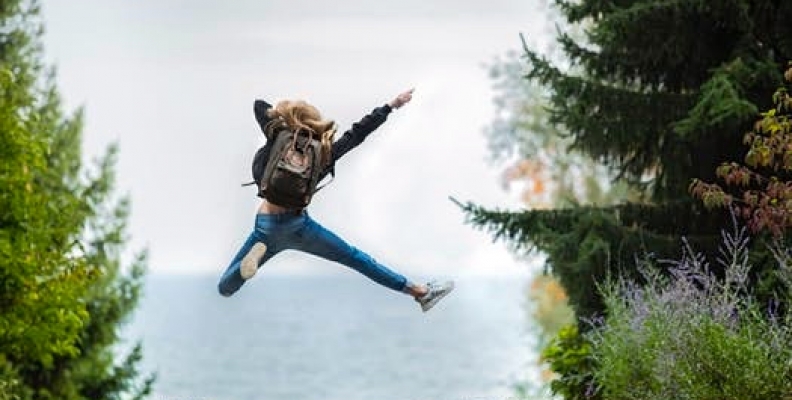 Flexible HR structures – A pipe dream?
There used to be endless arguments about centralised and decentralised HR, Ulrich models and centres of excellence but in the digital age the traditional models don't appear to work. Are there more relevant structures that will link HR activities together in a way we haven't been able to do to date?
Why should we structure differently?
Rigid HR specialisation departments, chains of command and narrow spans of control will not foster the collaborative, commercial customer-focused approach that digital business demands. Yet HR teams still have to provide basic services such as recruitment, L&D, administration, reward, employee engagement and change management, so it is a bit of challenge for HR.
To support business transformation HR must design services, structures and tools that enable managers reorganise their workforce to meet changing customer demand – at the drop of a hat.
In this world the shared purpose of the company, including HR, becomes the customer experience – an experience that is so brilliant that more and more customers want to use it.  It drives what leadership skills are required, how we engage with employees and ultimately re-shapes the culture.  That is why HR needs to rethink structures.
A new style HR
HR have to become a more dynamic part of the business – anticipating future problems and acting on them before they hit the fan.  One example is the dearth of experienced digital experts.  HR will want to put in place development plans for current employees who've the potential to 'learn fast' and use their new skills to fill the gaps.
I decided to look at it from the perspective that everyone, including HR teams, are in customer service.  Rather than consider the usual approach of HR which is to focus on the internal customer, I have thought about what the HR team need to deliver to ensure the end customer gets the very best customer experience.  I want HR to help the organisation work more effectively.
3 Models 
I needed some inspiration so I've used 3 models that are often used to structure social media rather than HR.
There is a place for a Chief People Officer in each of these ideas.  It is imperative that the customer and the employee are considered in the same breath at the top table.
Co-ordinated Structures – have a central group who provide an equal HR experience to business units. The hub is an enabler and not just the HR police. It can be a costly and cumbersome way of organising HR support to the business because the centre never quite really understands the detail of ever-changing business needs. Thus, the business tends to end up 'shadowing' the HR activity so they have some control.  In summary, I concluded it is unlikely that this structure would agile, flexible or cost effective enough to support todays pace of business change.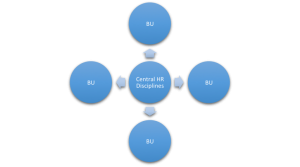 Hub and Spoke structures allow each business unit to have partial autonomy while maintaining a tie back to a central function. Business units are given individual freedom to deploy HR as they see fit.  I reckon his might work well in larger corporate businesses with a number of large business units but will require a lot of communication if the spokes to connect with each other, rather than everything channelled through the centre. The centre needs to be a pretty nimble anticipator of market and end customer changes if they are going to add value to the spokes. Could work!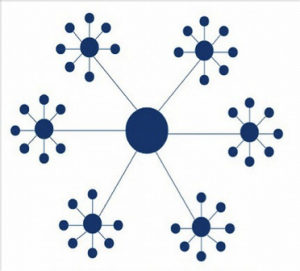 Honeycomb Structures.  An HR Strategy expert sits within the Honeycomb constantly scanning the external environment for change and gathering data from the Business units about how the people strategy has to adapt to meet changing customer habits. People Operations Experts are digitally enabled to serve particular Business Operations in a consistent manner. HR Specialists in OD, Recruitment, L&D, Admin etc are proven business experts and also flexible enough to be able to turn their hands to other HR disciplines or even manage change programmes when customer demands alter the shape of the business. Technology joins the honeycomb up and collaborative relationships exist between the specialist areas. HR team is small and administration is outsourced but is boosted by agile software.  Online processes are designed so they are really easy for managers to use – and they do use them!  Could this work?   I think I'd like to work in this structure – it breaks down traditional HR empires – makes us work together for the good of the customer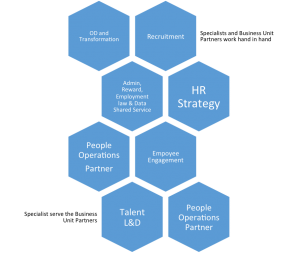 Each business will need to be viewed differently in the light of their product, digital maturity in the omni channel market place, geography and size…..and their particular customer base.
Are flexible structures a pipe dream for HR?
Technology and data will be crucial to HR in enabling smaller, yet more agile teams. Administration tasks can be outsourced so that HR experts are free to focus on supporting constantly shifting needs of the business.
However we choose to structure the HR function in the future there is one thing that they will need to be and that is connected, joined up, allied, united – connected through technology, relationships and shared customer experience purpose – the best experience for both employees and customers.
Businesses who begin to challenge HR to provide a better service to managers and staff alike and structure their HR team in such a way that it can adapt rapidly will provide better customer experience. They will also get better return on their investment in people and this in turn will help enhance the bottom line that keeps shareholders happy
For me flexible, agile HR is a no brainer!
Ruth Gawthorpe is the owner of The Change Directors and helps business to understand the best way to structure their HR Services, Teams and Tools to ensure a great manager and customer experience in the digital era. To get in touch send Ruth an email on rg@thechangedirectors.co.uk