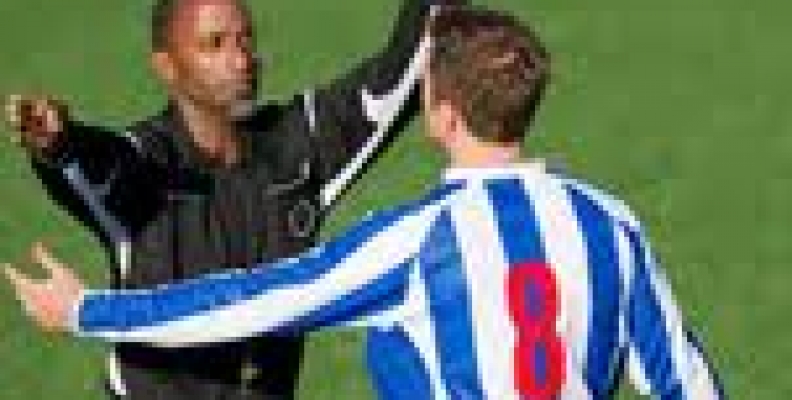 Would your business get the Red Card for Handling Disciplinary Matters?
It's getting to that time of year again.  Once again, from the local parks to the magnificent Pride Park, home of Derby County, we will hear the cries of "Referee….Referee!" as the person in black struggles to keep order on the football pitch.
The Referees Association have an excellent and in-depth Training Programme.  Did you know, for example, that referees are trained that there are certain ten minute periods of the game which need stricter policing including the first 10 minutes of a game, the five minute period immediately before and immediately after half time, and the last ten minutes of the game?  It got me thinking about Training for Disciplinary Handling in a business setting.
It may not seem the most strategic of subjects and yet experience has taught me that the way that a company deals with the handling of disciplinary matters can, and does, affect the respect that individuals, or the workforce as a whole, has for the company.  FIFA realises the many benefits of training it's referees to keep the game moving and to take action when necessary. Similarly, I believe it pays to invest in training managers in your company to handle disciplinary matters with confidence so that productivity doesn't drop.
Where poor performers are concerned, co-workers like to see them dealt with quickly, carefully and evenly.  Conversely, colleagues of under performers lose patience with line managers who do not address performance issues in a timely manner especially where they are having an impact on team results. Get it right and you will see an improvement in productivity and employees will generally support your evenhandness; get it wrong and they may vote with their feet or at the very least they will have reduced trust in you.
The trouble is that there is often a disconnection between the company disciplinary policy and how disciplinary issues are handled in reality and that is mostly down to a lack of time and effort spent in training line managers on how to manage tricky situations in line with your policy.  Alternatively, managers do not have the confidence to handle a disciplinary matter and the issue is either left untackled or it is escalated up a level to a manager who has the experience to deal with it but probably not the time or in-depth understanding of the process.
While the subject is a serious one a Disciplinary Training session can still be made fun.  When learning is amusing or enjoyable we retain more knowledge. So, along with the serious stuff of understanding what exactly is in that policy on the intranet, how to manage a disciplinary matter and what is the difference between unfair dismissal and wrongful dismissal, you might pepper your presentation with some colour, film clips and quizzes.
I like to intersperse interesting case law, which highlights the subject I am speaking about and the more high profile the case the better.
Earlier this year, former Tottenham Hotspurs Chairman defended a claim for constructive dismissal by a previous winner of the Apprentice. Recently the Stella v Lord Sugar case has proved an attention grabber in my training programmes,  successfully getting learners to understand the constructive dismissal legislation! I'm sure both would be pleased to hear some good had come out of the case.
A word of caution… many other policies link to the disciplinary policy and of course this means that off the shelf training packages can be a bit of a hospital pass.  Realistically, you need to tailor your Training Programme to match the culture and needs of your business and the uniqueness of your policies.
Another substantial reason to train your managers is that the rewards are fascinating.  In one company I worked with recently, performance improved by nearly 20% because Team Leaders felt confident enough to address low performers at an early stage, deal fairly and evenly with conduct issues and recognise when to call HR because of a more complex issue. RESULT.
If you want to test the capability of your Line Managers ask them a simple question.  What are the five fair reasons for dismissal?  If they cannot tell you, get your pad out and start planning your training.
Finally, heed the story of Andy Wain, a local referee, who accepted his own red card after squaring up to a player over a goal dispute. North End keeper Richard McGaffin was unhappy with a goal that put the opposition 2-1 up, insisting a player had been fouled.  But instead of giving McGaffin a ticking off, Wain lost his temper. The ref hurled down his whistle, un-tucked his shirt and marched up to eyeball the player, before realising the error of his ways and sending himself off.  The game was abandoned. I am sure that he will have received re-training from the Referees Association.
It's time to equip your managers so that they don't give themselves Red Cards. Having a concise, bespoke, good quality training programme that focuses on handling disciplinary matters will lead to less conflict in the process, higher performance from employees and your business is more likely to reach it's goals.
Do you have clear disciplinary procedures that are understood and followed by all managers, accessible to employees and easily understood?  Are your Managers well trained and confident in handling disciplinary matters?
Ruth Gawthorpe from The Change Directors can help you devise and present a bespoke training package which will make a difference in your business.
Call 07976509551 to arrange an appointment with Ruth.