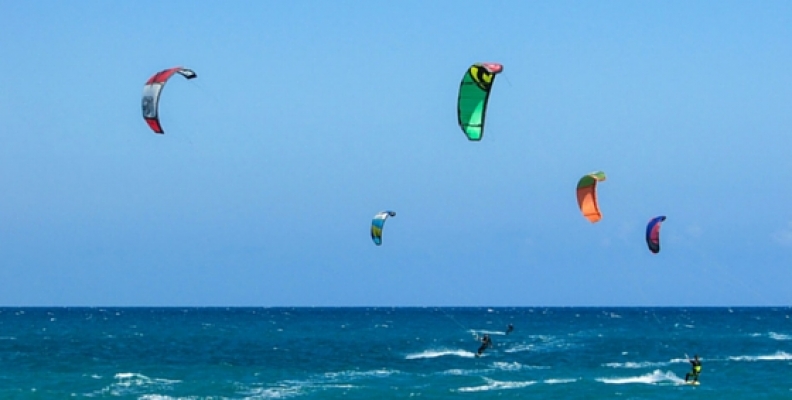 Fly High Performance?
A few months ago, we visited Palm Island – one of the most gorgeous places on this earth. Each morning I had the pleasure of watching a kite surfer set off with his backpack to surf the seas in font of our rustic cottage. It fascinated me. Apparently, it is one of the fastest growing hobbies in the world. We got talking to the guy one evening in the bar and he told me that he loves the sport because he gets his daily adrenalin fix and is also able to run his online business while travelling from one paradise to another. Nice work if you can get it.
He also told me that the windsurfer fraternity turns their nose up at mere kite surfing. Their joke is apparently "What's the difference between a kite surf beginner and a professional?" Answer: "One week".
And he reckons it's not that difficult or as dangerous as you think – within 10 days you can be kite surfing and enjoying it. I can only imagine what it must feel like particularly looking down on such a beautiful place as Palm Island each morning.
No limits
Why the story. I'm not going to flying high on a kite surf any time soon so I will have to make do with the fabulous feeling that I got from a transformation project just before going on that holiday.
I recently helped an organisation to redesign their performance management system and we even managed to link bonus even though we ditched those darned forced rankings. A bit like kite surfing – we spent just 10 days defining, coming up with ideas, trialing them with staff before we were in a position to propose a new system to leadership. We used the Design Thinking Concept and began by empathizing with employee and business needs
Iterative Process
Using Design Thinking helped us focus on the overall business performance indicators as well as understanding and articulating what would motivate and engage employees to do a great job. And using design thinking we were able to capture the key data and feedback that we would share with employees.
The new performance system uses real time positive feedback from customers, and equally, any negative comments offer staff opportunities to improve skills are delivered almost immediately. It treats employees as grown ups – no waiting around for 6 or 12 months for a manager to tell you how you've done. The responsibility for progress is firmly in the employee's hands and that's the way that they wanted it!
It was an iterative process but the new process is now being embedded and the staff feedback is tremendous. It's a good feeling knowing that we've made such a difference. We're flying high!
A lot of organisations appear frightened to take that first step to change from their annual appraisal to something more relevant for 2016 and beyond. But a bit like kite surfing – changing your appraisal process is not as dangerous as you think.
Ruth Gawthorpe is the owner of The Change Directors and is ready to work with you on updating your annual appraisal process. Call her on 07976 509551 to make arrangements for an initial exploratory workshop.