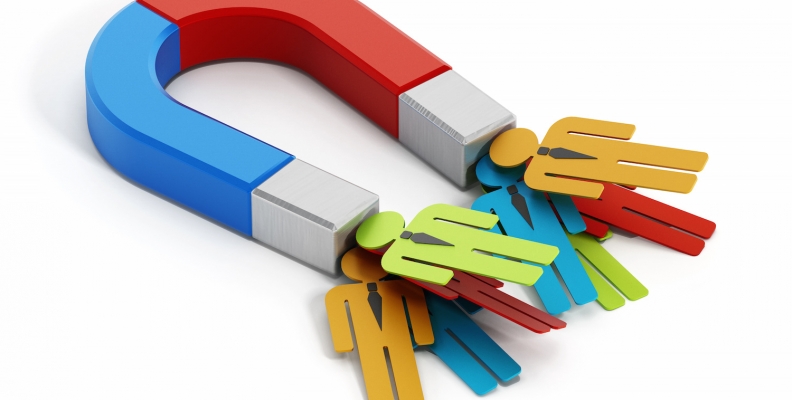 Magnetic Candidate Attraction
The economy is recovering, businesses are planning growth and, naturally, the recruitment market is hotting up. It follows that your company's Employer Brand and its unique attraction proposition (UAP) is becoming a more important factor in appealing to and retaining the best talent.
It is time to get magnetic! Consider what the unique characteristics are that you can offer new starters and that your labour market competitors can't.
Here are a few ideas for understanding your employer UAP.
Consider the things that employees value about working for your company. Ask new starters what drew them to work for you. Drill down beyond the basics that are common to all businesses in your sector. You need to identify half a dozen and then move on to step 2.
Identify your labour market competitors then, being really objective, score yourself and your competitors out of 10 for each of the features you have uncovered as possible UAP's. Don't forget cultural aspects.
It you put these into a graph, you will be able to see what strengths and weaknesses you have in relation to other labour market competitors. Where do you rank well? This could be your UAP.
Test the results on your employees. Is it really something that they valued and made them want to join your organisation.
Labour market competition is constantly evolving and if competitors see something you are doing is working well then they will try to copy it. Once you are certain you have identified your UAP, market it, maintain it and build on it as competition develops.
Top Tip: If your culture is your Employer branding UAP then use real employee stories to explain how it has evolved and adds value.
Finally, collaborate with your marketing folks on this one as employer branding and customer branding are invariably linked.
Ruth Gawthorpe is the owner of the Change Directors and has lots of tools like this in her toolbox to help you run a better business, transform or get ready for growth…… through your people. Contact her now on 07976 509 551 for a chat about your growth plans.